NeoCon 2017: This year's show was bigger and busier than in recent years - July 2017
participación
Tiempo de Publicación

2017-10-09
NeoCon 2017: This year's show was bigger and busier than in recent years - July 2017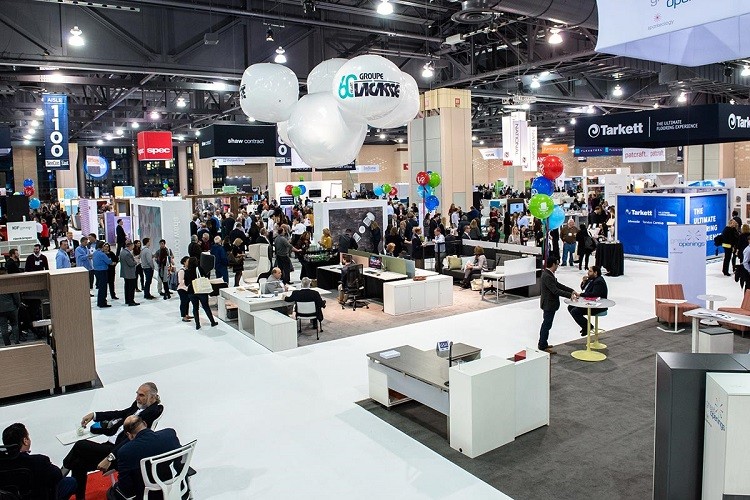 By every metric, this year's NeoCon, held at Chicago's Merchandise Mart from June 12 to 14, was a success. The hallways were crowded with over 56,000 attendees, up 7% from last year. Six new permanent showrooms were added, and 25 new exhibitors signed on. And even on the third day, when the Mart is historically a ghost town, there were still crowds moving through the showroom floors.
According to Byron Morton, vice president of leasing for the NeoCon show, "We went into this year strong-showrooms were at capacity, and there were 28% 'new to NeoCon' brands in our sold-out seventh floor exhibit hall. The buzz continued to build with three full days of sold-out keynotes, at-capacity CEU sessions, innovative product launches and dynamic networking events. We look forward to leveraging this momentum as we get ready for NeoCon's 50th anniversary in 2018."
Most of the flooring activity was in the permanent showrooms on the third, tenth and 11th floors, and in the booths grouped on one side of the seventh floor. Tarkett combined its showroom and booth spaces from previous years into a massive new permanent showroom in the middle of the third floor. And several of the seventh floor exhibitors increased the size of their booths.
This year, just about every carpet mill showcased LVT collections, including a lot of rigid LVT, and people still couldn't get enough of it. It came in so many shapes and sizes and colors that it makes one wonder what next year's LVT will look like.
Many attributed the increased activity and attendance to optimism about the market, but commercial business is still far from robust. Hopes are that this year will be stronger than 2016, but the jury is still out. One thing's for sure, though: there was no shortage of enthusiasm at this year's show.
TRENDS AT THE SHOW
While there were several notable design trends at this year's show, the strongest trends were probably about diversified product offerings from the various manufacturers, particularly the carpet mills, along with developments in the various commercial sectors, in terms of how these different commercial spaces are evolving and adapting, and how their flooring needs are changing.
Bringing together hard surface and carpet offerings was a big focus at this year's show. And that included coordinating designs, colorways, profiles and overall looks, like Interface's Boundary Metallics LVT collection, which not only is the same thickness as its carpet tile products but also shares the distinctive biomorphic look found on many of its products. And Mannington introduced an LVT called Portland Project, designed to subtly complement last year's Portland carpet collection in its colorways and angled line motif.
However, in terms of bringing together hard and soft programs in general, most notable was Tarkett, which this year displayed its entire roster of flooring-from carpet tile, broadloom and Powerbond to LVT, homogenous vinyl sheet and rubber flooring-in its new showroom. Its Ensemble Healthcare collection, a Best of NeoCon award winner, is comprised of all of those flooring types.
In terms of commercial sectors, the rapidly evolving trend is not just about mixing hard and soft surfaces, but also about the profile of those sectors in general. The concept of the corporate look or the healthcare look or the hospitality look is racing toward irrelevance. Everywhere is mixing hard and soft, commercial and residential, formal and informal.
Nowhere is this in greater evidence than in corporate workplace design, and the (non-flooring) showroom that best exemplified it this year was Steelcase. Everything in Steelcase was about zones: privacy zones, collaborative zones, transit zones-all heavily delineated by flooring choices like LVT, carpet tile and area rugs. One respite zone even used real grass turf for its floor. Another big workplace trend is smart furniture, like desks that elevate to make you stand if you've been sitting too long. And there was a lot of color, like colored lampshades and computer arms, products that were previously utilitarian and steely, or at best white or black-and chairs that were not just colored but were multicolored.
Color was a big theme throughout the show. In flooring and other interior elements, though there was still plenty of grey, it felt like greys, taupes and neutrals in general were no longer trending. Instead it was colors, like soft peach, rust and ocher, or cooler greens, or combinations of warm limey greens with cool greens and blue greens. Organic oranges like in Mohawk's Lichen.
Speaking of Lichen, biophilic design was another theme at this year's show, mostly expressed in carpet design-from Mohawk, Interface, of course, as well as Shaw, with its award-winning Emergence floral design. Even J+J Flooring's pottery theme, expressed in both carpet tile and Kinetex, had a biophilic feel to it.